Reversibility and Stochastic Networks
---
F. P. Kelly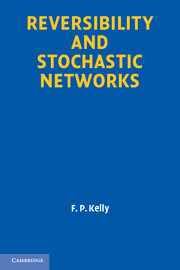 The book (published by Wiley, Chichester, 1979, reprinted 1987, 1994) is now available from Cambridge University Press, 2011.
---
Permission is granted for the material to be freely downloaded and distributed for instructional non-profit purposes, from Reversibility and Stochastic Networks.
Grateful thanks to Alan Bain, whose initiative made this possible. Nicky van Foreest kindly upgraded the book's djvu file to enable searching: free plug-ins available from DjVu home.
---