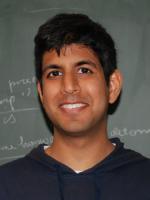 The hardness of conditional independence testing and the generalised covariance measure
– The Annals of Statistics
Goodness-of-fit testing in high dimensional generalized linear models
– Journal of the Royal Statistical Society Series B (Statistical Methodology)
Right singular vector projection graphs: fast high dimensional covariance matrix estimation under latent confounding
– Journal of the Royal Statistical Society Series B: Statistical Methodology
Challenges in comparing physical abuse, fractures and metabolic bone disease in young children in the UK and Sweden.
– Archives of Disease in Childhood
Multicentre study of physical abuse and limb fractures in young children in the East Anglia Region, UK.
A multiple myeloma classification system that associates normal B-cell subset phenotypes with prognosis.
The xyz algorithm for fast interaction search in high-dimensional data
– Journal of Machine Learning Research
On b-bit min-wise hashing for large-scale regression and classification with sparse data
– Journal of Machine Learning Research
Goodness‐of‐fit tests for high dimensional linear models
– Journal of the Royal Statistical Society Series B (Statistical Methodology)
Modelling Interactions in High-dimensional Data with Backtracking
– Journal of Machine Learning Research