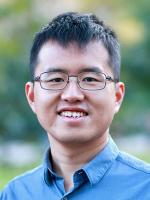 Mendelian randomisation with coarsened exposures
Causal Relationship and Shared Genetic Loci between Psoriasis and Type 2 Diabetes through Trans-Disease Meta-Analysis
– The Journal of investigative dermatology
Quantifying and addressing the prevalence and bias of study designs in the environmental and social sciences.
BETS: The dangers of selection bias in early analyses of the coronavirus disease (COVID-19) pandemic
– Annals of Applied Statistics
Letter to the editor: Generation interval for COVID-19 based on symptom onset data.
Statistical inference in two-sample summary-data Mendelian randomization using robust adjusted profile score
Selecting and Ranking Individualized Treatment Rules With Unmeasured Confounding
– Journal of the American Statistical Association
Powerful three-sample genome-wide design and robust statistical inference in summary-data Mendelian randomization.
– International Journal of Epidemiology
Causal Interpretations of Black-Box Models
– Journal of business & economic statistics : a publication of the American Statistical Association
Sensitivity analysis for inverse probability weighting estimators via the percentile bootstrap
– Journal of the Royal Statistical Society Series B (Statistical Methodology)