Richard J. Samworth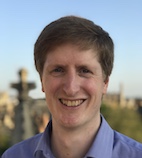 ---
Teaching
Research
Group members
---
I hold the Professorship of Statistical Science and am Director of the Statistical Laboratory, a sub-department of the Department of Pure Mathematics and Mathematical Statistics. This is part of the Faculty of Mathematics at the University of Cambridge. I am also a Teaching Fellow at St John's College, and run the Statistics Clinic for members of the university.

I currently hold a European Research Council Advanced Grant, which will run for five years from 1 October 2021.

Richard J. Samworth, Statistical Laboratory, Centre for Mathematical Sciences, Wilberforce Road, Cambridge, CB3 0WB. Tel: +44 1223 337950 Email: r.samworth

@

statslab.cam.ac.uk

Research interests
Shape-constrained estimation problems
Data perturbation methods (e.g. subsampling, bootstrap sampling, random projections, knockoffs)
Nonparametric classification, clustering and regression problems
Unconditional and conditional independence testing
Estimation of entropy and other functionals
High-dimensional statistical inference, including problems in changepoint detection and estimation, missing data and variable selection
Applications, including public health, genetics, archaeology and oceanography
Editorial service
Research Section Committee of the Royal Statistical Society (January 2007-December 2010 and February 2012-December 2015; secretary January 2009-December 2010). This committee is responsible for administrating the RSS read papers at its Ordinary Meetings.
Associate editor, Statistical Science (January 2017-December 2019 and June 2022-). Manuscripts are handled through EJMS
Associate editor, Biometrika (August 2010-August 2014).